Starter OLD price $39 > NEW price $18
Professional OLD price $95 > NEW price $45

Check out the

review
of Nebula Explained Pro now!
(photo of printed page)
"Despite working with Nebula and its libraries for some years now, I gained a lot of new knowledge… working through this course is likely to save any Nebula user many, many hours." Martin Walker (Sound On Sound)
"Even if Acustica's new planned releases will feature new products, this knowledge base will not change. We could hide menus, make things more appealing or skinning things here and there, but our core engine will not change any more, so general rules will apply." Giancarlo del Sordo (creator of Nebula)
"Nebula Explained PRO is a MUST for all who wants to get maximum from Acustica Nebula. Very detailed and easy to understand. 100% recommend!"

Andi Vax (mastering engineer, sound producer, re-mixer and composer)
Much more than just video tutorials…


Nebula Explained is hosted on the amazing Udemy online academy, it is much more than just a set of tutorial videos.
Once subscribed, you have access to all course materials indefinitely.
Take your course wherever you go, courses on Udemy are available on any device at any time.
Monitor your own progress as you advance through the course.
30 day no-questions asked money back guarantee from Udemy.
How to Enrol
There are two different versions of the course that have been specially tailored to the needs of different users, Professional and Starter. You can learn all about them on this page and decide which is best for you.
When you have decided just enter your email in the Enrol box for your course and you will be emailed your special 10% discount link. Follow the instructions and enrol on the Udemy website with your discount.
Key Benefits
Everything you need to know in one comprehensive course, no more hours wasted searching forums.
Optimise Nebula and your DAW so they work perfectly together at the lowest latency and highest sound quality possible.
Understand and tweak Nebula's engine so you can take advantage of all its advanced features.
Improve your listening skills and hear into the 'dynamic dimension' Nebula opens up.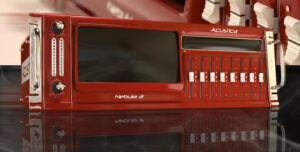 Nebula Explained Starter
$18 (+20% VAT in EUROPE ONLY) | $20 Udemy
Want a clear and easy explanation of how to best set up and operate Nebula?
Are you confused by terms like Kernels, Vectors and DSPBUFFER?
Ever wondered what the real difference is between the 'Nebula' and 'Nebula Reverb' plug-ins?
Nebula is famous for its amazing emulations of classic studio gear, but up until now it has been very hard work for the average user to get the most out of it.
Nebula uses unique and complex technology that has previously been understood by only a small number of dedicated computer audio geeks. Now at last this information is available for everyone in plain English!
Starter contains the basic but essential information that every Nebula user needs to know. If you are a casual user or just getting started, this course will save you hours of frustration and take your understanding and practical knowledge of Nebula to the next level.
Starter Summary | Syllabus Download
Nebula Explained Professional
$45 (+20% VAT in EUROPE ONLY) | $50 Udemy
Would you like to edit your XML files and customize your install?
Know exactly what every setting inside Nebula does and how you can use it to your advantage?
Find out how the technology behind Nebula works and learn the secrets of the 'Dynamic Dimension'!
This Course is the One you Have Been Waiting For!
This is the full version of the course and contains all the detailed information about using Nebula that the professional user demands. It contains all the material included in Starter and builds on this to provide all the specialist knowledge to transform your way of working with Nebula and the results you can achieve.
All subjects are covered in full detail with extensive real world examples. By the time you complete this course you will have gained a deep understanding of how Nebula works and all the practical skills to use it and its associated libraries to their greatest potential.
Every lecture starts by telling you exactly what you will learn in the lecture and ends with a detailed summary. These summaries are available as PDF files for you to download and print out. At the end of each section there are multiple choice questions to help consolidate your learning.
As an extra special bonus there is a full audio interview with Giancarlo Del Sordo (the creator of Nebula) included.
Pro Summary | Syllabus Download